Cheap Wedding Venues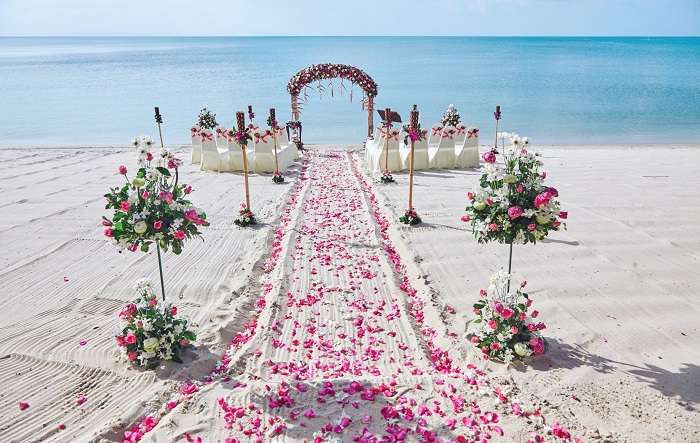 While you may miss almost every part of a wedding, from wearing a suit instead of a gown to skipping the flowers to cutting the wedding cake, there is one thing you can't miss: the venue. After all, it would help if you had a place for your friends and family to congregate and celebrate. However, looking for the ideal location isn't easy. Whether you're searching for a gorgeous barn, an elegant ballroom, a charming café, or a peaceful stretch of coastline, there are plenty of alternatives.
If you are looking for an affordable option, Rainbow Notary And Nuptials Wedding Officiants offers the Rainbow Wedding Chapel. It is one of the most inclusive and cheap wedding venues you can find.
Tips For Choosing Your Perfect Wedding Venue
Here are some things that you need to consider when choosing your wedding venu.
Number Of People To Invite
Estimate the number of guests you'd want to invite to your wedding, as not all wedding venues accommodate a large number of wedding guests. Almost every wedding venue will have a minimum guest count. If your final attendance number is lower than expected, you'll have to pay for extra plates.
How Much You Are Willing To Spend
Do your research and determine the going costs in the area where you want to hold your wedding. You may search online venue directories by location, pricing, and venue type, among other things. Knowing the amount to spend on your wedding venue will save you the heartache of falling in love with a place that is way out of your budget.
Choose Your Wedding Date
Some couples chose to marry on the day they met, their parents' or grandparents' anniversary date, or for encouraging reasons associated with numbers in their culture or religion. Others may choose a specific season and year but not a particular day. You'll often be able to acquire the venue of your dreams at a reduced fee if you are flexible with your schedule and choose an off-season month. The time of year, day of the week, and length of your engagement all impact your negotiation power with vendors.
Determine Your Wedding Style
The venue will heavily influence the style of your wedding, so having a vision of what you want your big day to look like is essential. For example, if you want a sunset wedding, then, of course, you will have to head down to the beach to witness the incredible sunset. If you want a spacious and relaxing feel, then you might want to consider an outdoor or garden venue.
Pick The Theme Of Your Wedding
Brides frequently tell us that their colors are purple and silver and that their venue includes ivory walls and gold seats. Consider how the colors and theme suit your venue area for a unified image.
Frequently Asked Questions
What Are The Most Popular Kind Of Wedding Venues?
The most popular kinds of wedding venues are:
Hotel Wedding Venues
Barn Wedding Venues
Modern Wedding Venues
Estate Wedding Venues
Backyard Wedding Venues
How Long Does Touring A Wedding Venue Take?
A wedding venue tour can take 20 minutes to an hour, depending on how much of the venue you want to see and how many questions you have. You may wish to extend your stay if the wedding venue offers a lot of space to explore.

What Should I Budget For A Wedding Venue?
The size of your event primarily decides the cost of a typical wedding location. Of course, you will spend more money if you invite more people. It means that larger venues with a larger capacity will often cost more than smaller venues with a smaller capacity.

Walk-In Wedding Chapel On Demand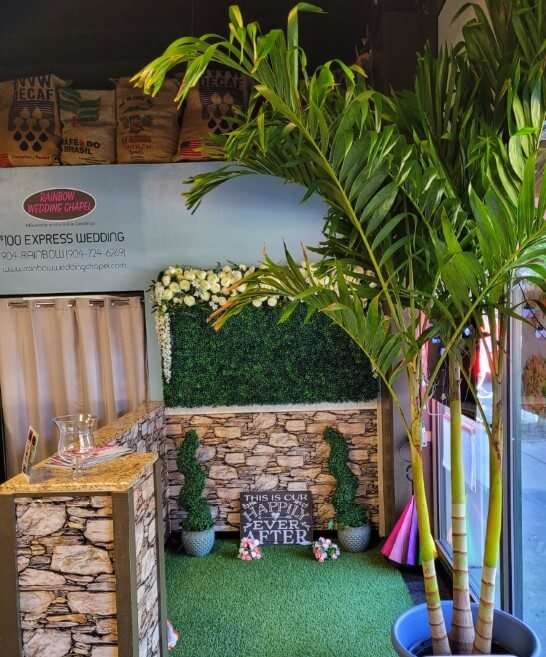 If you are looking for the best cheap wedding venue, look no further than Rainbow Notary and Nuptials Wedding Officiants. We have a walk-in wedding chapel on demand that will accommodate your needs and make your wedding day special.
We offer Rainbow Wedding Chapel two distinct indoor setups: a beach wedding on the sand and a boardwalk or a garden wedding set on the grass with a gorgeous flower wall,topiary boxwoods, and a stone wall as a backdrop. It is warm in the winter and cool in the summer in our indoor chapel. You can be sure that it will not rain on your wedding day.
Book Your Wedding With Rainbow Wedding Chapel
Rainbow Notary And Nuptials Wedding Officiants!
Call Us At (904)333-7311 Now!
Rainbow Mobile Notary And Nuptials Wedding Officiants
491 West Forsyth Street, Suite 2, Jacksonville, FL 32202
(904)333-7311