Finding a wedding officiant and selecting the ideal candidate are rather significant decisions. In addition to officiating your wedding, this individual will work with you in the months preceding your wedding to make sure you are prepared for the wedding. Premarital counseling, which can be a crucial step on the road to saying I do is even offered by certain officiants to engaged couples. As a result, choosing the right officiant is a serious decision you should take seriously.
 Are you searching for wedding officiants in Jacksonville, FL? Rainbow Notary And Nuptials Wedding Officiants are the best wedding officiant in Jacksonville, FL.
Planning a wedding can be daunting, and finding the right wedding officiant is a crucial step in the process. Rainbow Notary and Nuptials for couples in Jacksonville are the top-rated wedding officiants. When selecting a wedding officiant, it's important to keep in mind these essential factors.
1. Check The Experience Level Possessed
Choosing a highly skilled officiant demonstrates your confidence in delivering and writing the ceremonies. Also, if you need help selecting or writing your vows and readings, having a knowledgeable wedding officiant nearby would be incredibly helpful. Choosing your vows might be challenging, especially if your guests have no personal connection to you as a couple. With an experienced wedding officiant, you may discover a reading that works for your occasion and cut down on needless, time-consuming parts.
2. Choose If You're Looking for a Religious or Secular Wedding Officiant.
Before looking for a wedding officiant, choose the type of ceremony you want. Rainbow Notary And Nuptials Wedding Officiants in Jacksonville, FL, offer a more comprehensive range of services, including ceremonies for secular, religious, customary, or other celebrations. Finding your officiant will be simpler once you know what you require. It would be ideal if you carefully considered all your possibilities; you will eventually find someone who fulfills your long-held desires.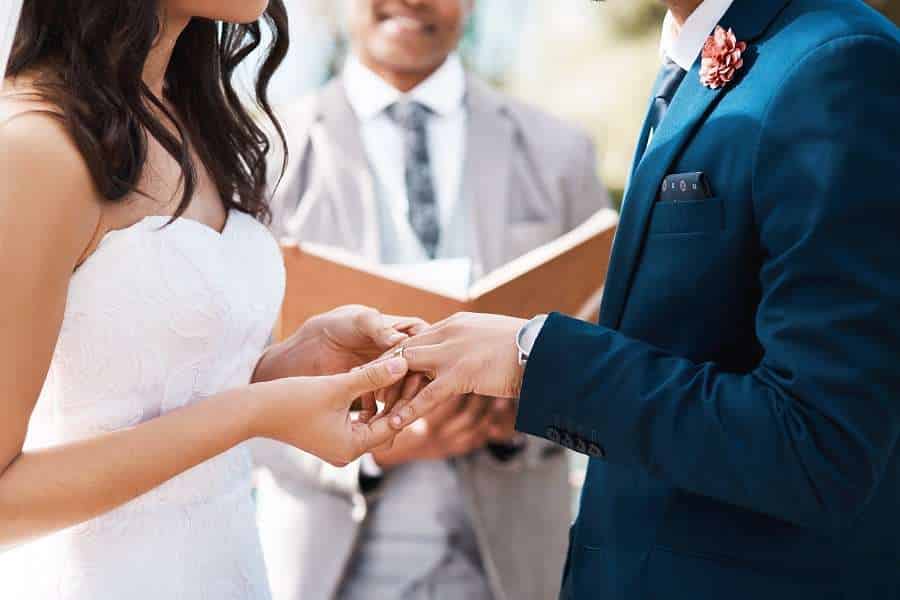 3. Confirm that the Wedding Officiant is a Confident Speaker.
An excellent wedding officiant is a confident, articulate speaker who can convey seriousness and humor as needed, sending the audience on a journey with their words and voice. Your officiant will serve as the de facto host or emcee even though your wedding is, in fact, about you and your future husband and the love you share. Try to observe them in action, either at a service or in a video from another wedding, to determine how excellent their presentation abilities are. You don't want someone who is overly theatrical because they can bring everything down into the realm of parody.
4. Meet Your Prospective Officiant in Person.
Hiring has always been an excellent if occasionally trying, process. Make sure you select only the best for your ideal ceremony, remembering that it will be the significant event of a lifetime when you get married. You want someone who has similar views on marriage as you do yourself. That implies you must make multiple calls to determine whether these persons are available. Schedule a meeting time and even have an in-depth follow-up conversation (online or over a phone call). Ask the celebrant if they want to get to know you and your future spouse so you will be at ease with each other. Using that evaluation, you can determine if you will receive more than just service remarks that have been memorized or practiced.
5. Check to See Whether their Values Align with yours.
When choosing a wedding officiant, values and levels of conservatism can only become problematic if they are worked out in advance, particularly regarding religious ceremonies. Ensure that the officiant can meet any specific requests you may have for your special wedding ceremony, such as writing your vows or inserting particular readings. 
Frequently Asked Questions
Who can Marry you in Jacksonville, FL?
The following people are authorized by Florida law to perform marriage ceremonies:
Ordained clergy.

Elders in communion with a church.

All Florida judges.

Notaries public of the State of Florida.
Who can Legally Officiate a Wedding in Florida?
An ordained minister in the church, all regularly appointed gospel preachers, and another ordained clergy can legally officiate a wedding. A minister who has obtained the proper authorization from the rules of their particular denomination to officiate at weddings. All Florida judges, including those who have since retired.
How Many Witnesses are you Required to have to get Married in Florida?
Although there are spaces on the marriage certificate for the signatures of two witnesses, witnesses are not legally necessary. However, if verification of the marriage ceremony is later required, it is advised that two witnesses and the Notary sign the marriage license.
What Makes You Legally Married in Florida?
A couple must get a marriage license from Florida and have their union blessed by an official, such as a judge or religious leader, to be regarded as legally wed in the state. It guarantees the marriage is recognized legally and grants the couple specific rights and obligations under state law.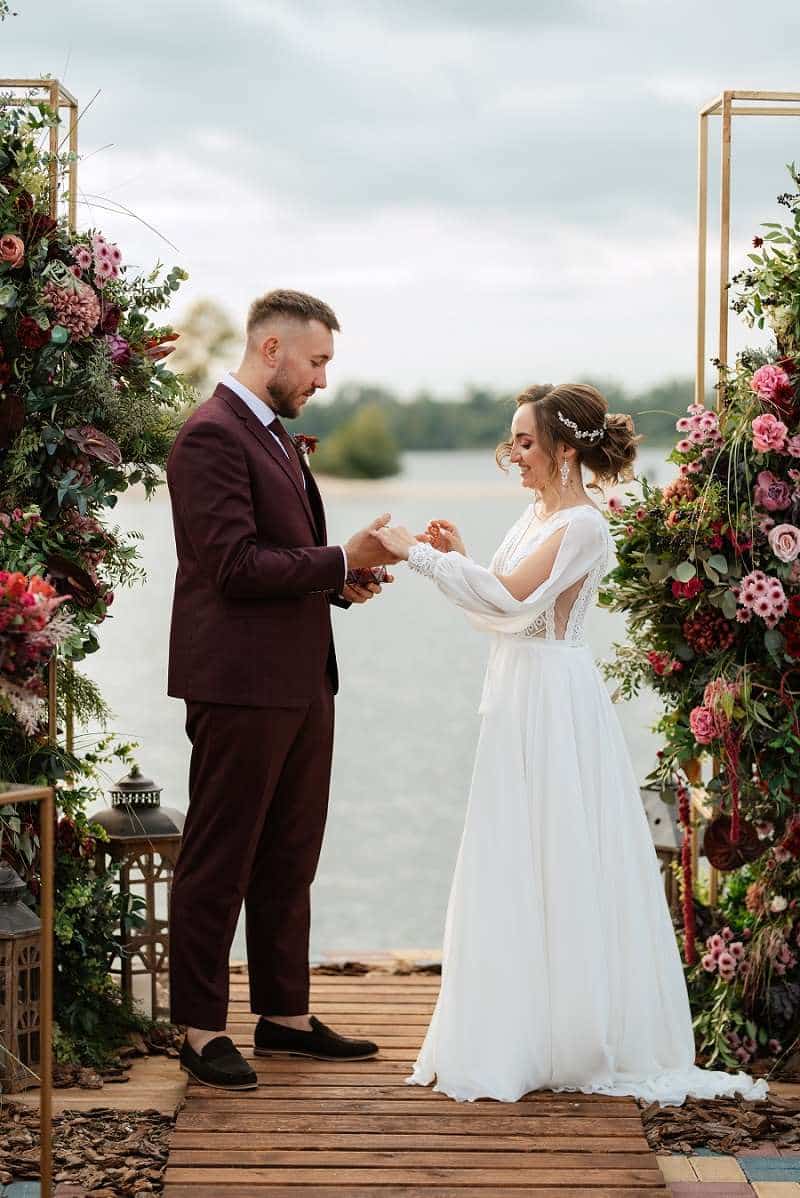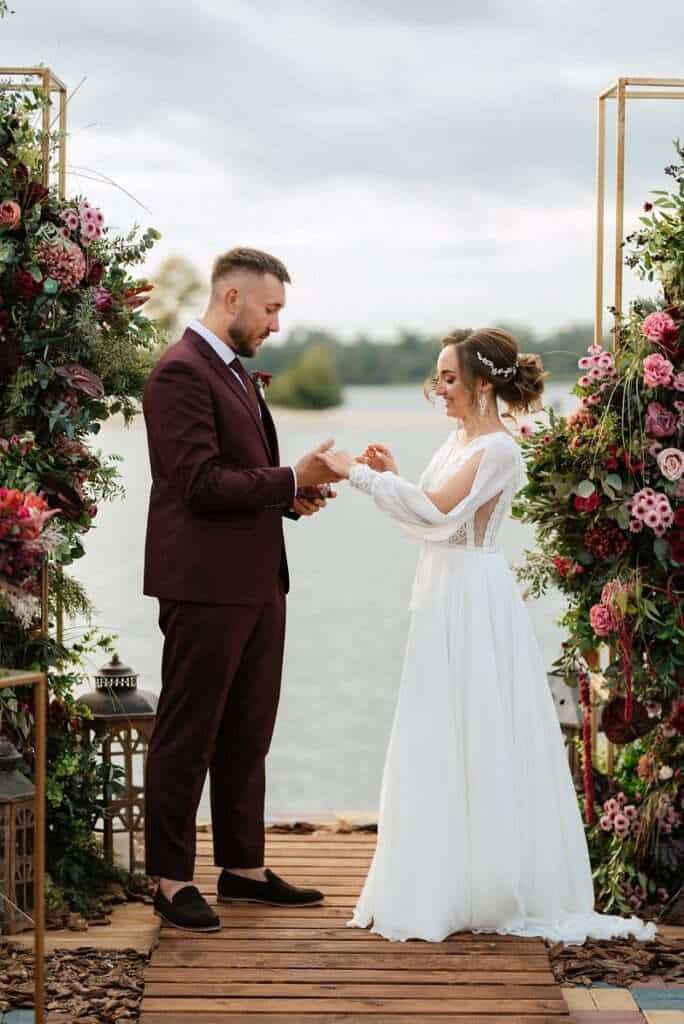 The Top-Rated Wedding Officiants In Jacksonville, FL
Select a wedding officiant you enjoy in Jacksonville, FL, before deciding. Start by inquiring about the cost, the due date, the ceremony's particulars, and the position's scope. By doing this, you can guarantee that the celebrant you've chosen will conduct the ceremony in a way that honors both you and the spouse you want to spend the rest of your life with. Then, selecting the ideal officiant ensures that the ceremony you have always imagined will be flawless and correct.
Rainbow Notary And Nuptials Wedding Officiants, the best wedding officiant in Jacksonville, FL, will make your wedding less stressful and guarantee that you have a joyful and unforgettable wedding. In addition, they will guarantee that your wedding is of the highest caliber and know the legal requirements for any wedding. Contact us right away to discuss all of your wedding planning and ideas!
Get Your Dream Wedding With Rainbow Notary And Nuptials Wedding Officiants!
Call Us At (904)333-7311!

Rainbow Mobile Notary And Nuptials Wedding Officiants
491 West Forsyth Street, Suite 2, Jacksonville, FL 32202
(904)333-7311