It is a victory for the strong LGBT community that you can now legally express your affection. Same-sex couples are currently seeking gay and lesbian wedding advice for their nuptials. You wish to make it official, and we are thrilled to be of such tremendous assistance to you all. 
Ensure sufficient time to plan your wedding without becoming too stressed. It is recommended that you plan your wedding at least a year in advance, as this will result in a less stressful experience, but it is possible to plan your wedding in nine or six months if you begin now. Less than six months will be challenging, but many couples have accomplished it!
Whether you want a simple elopement or a grand affair, whether your aesthetic preferences lean toward the moody or the rustic, and whether you'll have a dozen wedding attendants or none, Rainbow Notary and Nuptials has you covered for your quick gay marriage in Jacksonville.
Looking for a Trusted Wedding Officiant?
Contact Rainbow Notary And Nuptials Now!
Tips on Planning a Quick Gay Marriage in Jacksonville
1. Calculating Your Overall Budget
It's no secret that determining the breakdown of your wedding budget is one of the most challenging aspects of getting married. How you create your wedding budget breakdown is entirely up to you. Depending on your preferences and personality, you may invest more or less in specific areas, which is perfectly acceptable. Note that your wedding cost breakdown and budget percentages may vary depending on the location of your wedding, the number of guests, and other variables. 
2. Picking a Wedding Date
There isn't one way to go about choosing a wedding date. For example, some couples choose an important date and then only consider venues available on that date. Others are more adaptable, choosing their date based on the venue's availability after finding their ideal location. We advise selecting the second option, so you have more venue options, saving time.
3. Establishing a Guest List
An essential point to remember is to remain organized. Maintain a record of everyone's mailing addresses, RSVPs, and menu preferences. You can easily manage your invitation list and export it to the stationer, calligrapher, caterer, and wedding planner if you have everyone's information in one place. You can also manage guest lists for rehearsal dinners and post-wedding brunches.
4. Deciding on the Ideal Wedding Venue
Finding a wedding venue involves more than searching for venues in your area, selecting the most beautiful setting, and making a reservation. Before signing a contract with a wedding venue, you should ask several questions to ensure that the location fits your budget, overall plan, and vision for the big day and determine what extra costs and considerations you'll need to factor in.
5. Choosing a Photographer and Videographer for a Wedding
How to choose a wedding photographer is one of the most pressing issues newly-engaged couples face. When selecting vendors, it is often helpful to seek the advice and recommendations of recently married couples.
6. Completing Your Vendor Team
This step entails procuring a wedding planner, catering services, florists, cake designer, and other services. 
As you search for the ideal wedding vendors, the question of whether you wish to "come out" as a same-sex couple or a couple with one or two trans people may arise. Of course, it is ultimately you and your partner's decision. But you may wish to be forthright with a wedding vendor whose services are heavily influenced by gender.
7. Ceremonies and Receptions for Same-Sex Marriages
Now comes the fun part! You have the freedom to design the ceremony and reception that best suits your relationship. It would help if you considered the following aspects of your wedding day:
Neutral-gender ceremony readings

How to compose your same-sex wedding vows.

Songs for same-sex couples in love

Wedding attire ideas for gay couples

Shopping for a wedding dress as a trans bride

Ways to subtly express your LGBTQ pride on your wedding day
8. Family, Friends, and Guests Will Attend Your Same-Sex Wedding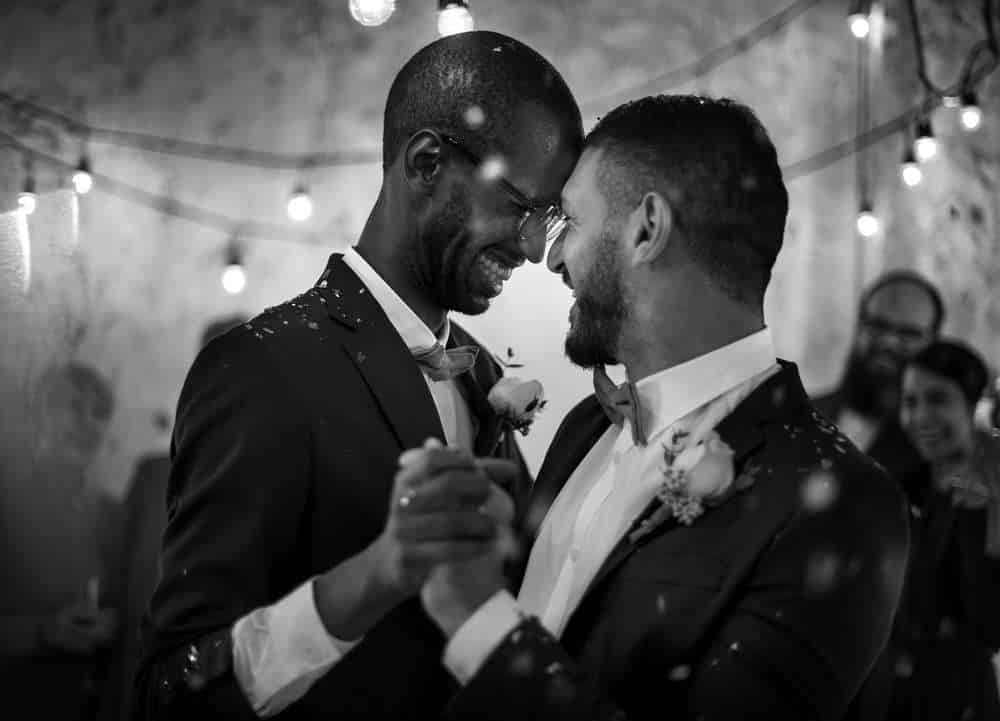 While planning your LGBTQ wedding may be as routine as any other couple's, you may encounter a few bumps in the road when navigating your family, friends, and guests. It is best to be prepared for some potential problems or questions you may encounter:
How to deal with two mothers of the bride

How to have a best man or maid of honor

How to proceed if your parents refuse to attend your wedding

Unique Ideas for a wedding shower for a couple

Your friends and family may have awkward questions about your LGBTQ wedding
Similar to opposite-sex weddings in most respects, same-sex weddings require additional steps for many couples. 2015's landmark Supreme Court decision recognizing marriage equality in all 50 states rendered same-sex weddings legally equivalent to weddings between people of different sexes. Couples planning same-sex weddings may desire gender-specific guidance and ideas for their ceremonies and receptions, which is why we are here.
Frequently Asked Questions:
Can LGBTQ+ people get married in Florida?
Yes, LGBTQ+ can get married in Florida. Florida couples can move to any state without fear of their marriages being invalidated. Marriage Equality became law in 2015. 
What's the Easiest and Cheapest Way to Get Married?
Booking a non-wedding venue is the easiest and cheapest way to get married. Premiums are charged by wedding venues because they host weddings daily and can provide couples with everything they require under one roof. Come to the Rainbow Wedding Chapel for a simple, yet lovely setting for your legal nuptials. 
What's The Waiting Period To Get Married in Florida?
Florida residents must wait three days before using the marriage license to get married. The 3-day waiting period begins once the Clerk's office issues the actual license. You can take the Premarital Class by Dr. Liliana Wolf and skip the 3 day wait. Also, if BOTH of you are out of state, then there is no waiting period. Take the Premarital Class and save TIME and MONEY. 
Your Trusted Wedding Officiants in Jacksonville
Rainbow Notary And Nuptials are pleased to support all marriages and perform commitment and wedding ceremonies for LGBTQ couples. Each of our wedding officiants is LGBT-friendly, and we take pride in our inclusiveness, flexibility, and originality when designing a ceremony for each couple. Since 2018, we have performed commitment ceremonies for LGBTQ+ couples and have been vocal supporters of marriage equality in our region. We have a stellar reputation in the gay community for our care and expertise, and we would be honored to be a part of your wedding.